What is a Macaron?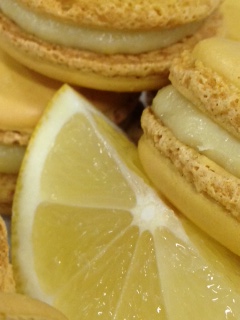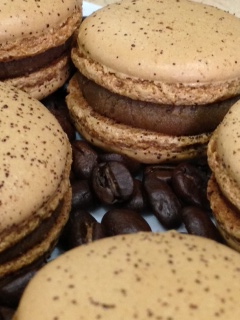 European Macaron vs MacarOOn?
European Macarons (mah-kah-ROHN)
are an iconic food item in Europe. A
MacarOOn
is a coconut based cookie popular in US and UK.
Macarons are delicate meringue pastry cookies, gluten-free made of almond flour, sugar and egg whites. The decadent fillings are made with high quality chocolate, seasonal fruit or savory ingredients such as foie gras.
(Right: Bon Macs! Espresso & Citron)
Macarons are well known in Italy, France and Switzerland. All three countries use different meringue techniques. The
macaronage technique
is an artisan craft and takes time and commitment to master.
Click here to Contact.
The finest modern day macarons in Paris are made by Pierre Hermé, Ladurée, Hugo & Victor, Christophe Felder and Carette.
Macaron History
The word
MACARON
(mah-kah-ROHN)
derives from the Italian maccherone and the Venetian macarone (meaning fine paste). Some have traced the French debut back to the arrival of Catherine de Medici's Italian pastry chefs whom she brought with her in 1533 upon marrying Henry II of France.
The macarons made in Nancy, France are best known. It is said that in the late eighteenth century, the abbess of Remiremont founded an order of nuns called,
The Dames du Saint-Sacrement
with strict dietary rules prohibiting the consumption of meat. Two nuns, Sisters Marguerite and Marie-Elisabeth, created the biscuit style,
Nancy Macaron
to fit their dietary requirements. They later sold them to make money and became known as,
Les Soeurs Macarons
(The Macaron Sisters).
In the 1930s, the
Paris Macaron
was created by Pierre Desfontaines of the French Pâtisserie Ladurée. In Zurich, Switzerland, Richard Sprungli first sold his Swiss version called,
Luxemburgerli
or
Luxembourger
which is more airy in consistency.
Click here to Contact
*My appreciation for the craft of European Macarons began while waiting in long lines at the Pierre Herme and Laduree Macaron shops in Paris (more photos on About page).